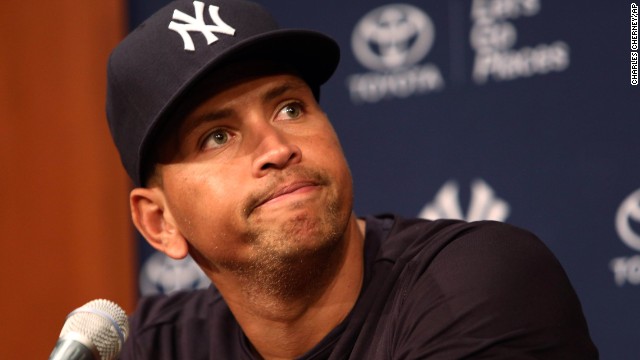 In an attempt to save face — and his fortune — troubled Yankee superstar Alex Rodriguez filed a lawsuit in New York Supreme Court late Thursday night, charging defendants Major League Baseball and commissioner Bud Selig with engaging in "vigilante justice" to destroy  Rodriguez's reputation  and career.   The suit says Selig and other MLB officials engaged in unethical and even criminal behavior against Rodriguez to "gloss over" their past inaction and tacit approval of performance-enhancing drugs in baseball. The court papers claim MLB officials conducted a "witch hunt" against Rodriguez to secure Selig's legacy as the "savior" of the national pastime.
"They have ignored the procedures set forth in baseball's collectively-bargained labor agreement; violated the strict confidentiality imposed by these agreements; paid individuals millions of dollars and made promises of future employment to individuals in order to get them to produce documents and to testify on MLB's behalf; bullied and intimidated those individuals who refused to cooperate with their witch hunt; and singled out plaintiff for an unprecedented 211-game suspension – the longest non-permanent ban in baseball history," the 31-page lawsuit claimed.
MLB fired back on Friday morning with a statement that said the suit is a "desperate attempt" to circumvent the appeals procedure outlined in the basic agreement – a procedure that is underway, with Rodriguez in his fifth day of arbitration fighting his 211-game doping ban.
Alex Rodriguez greets supporters outside MLB headquarters during his arbitration hearing.
"While we vehemently deny the allegations in the complaint, none of those allegations is relevant to the real issue: whether Mr. Rodriguez violated the Joint Drug Prevention and Treatment Program by using and possessing numerous forms of prohibited performance-enhancing substances, including testosterone and human growth hormone, over the course of multiple years and whether he violated the basic agreement by attempting to cover up his violations of the program by engaging in a course of conduct intended to obstruct and frustrate the office of the commissioner's investigation," MLB said in the statement.
The Daily News reported last week that A-Rod would file a lawsuit in an attempt to mitigate revelations of what sources have said is a mountain of devastating evidence that shows the steroid-stained slugger doped over several years. The suit represents something of a public relations stunt for Rodriguez, since baseball's collective-bargaining agreement compels both MLB officials and Rodriguez to settle their differences through binding arbitration.
SOURCE:  The Daily News