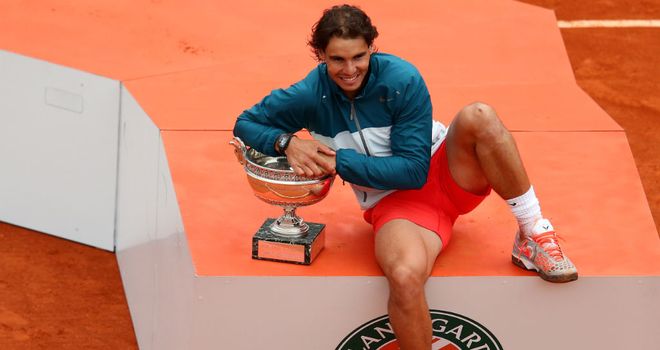 Looking fit as can be and maybe even better than ever, the No. 2-ranked Nadal pulled away from No. 1 Novak Djokovic 6-2, 3-6, 6-4, 6-1 on Monday in a taut, tense US Open final for his 13th Grand Slam title.
They started in sunlight and finished at night, a 3-hour, 21-minute miniseries of cliffhangers and plot twists and a pair of protagonists who inspired standing ovations in the middle of games.
There was no quit in either of them, during points that lasted 15, 25, even more than 50 strokes. Those rallies went so long, rarely over when they appeared to be, and spectators often shouted out during the course of play, prompting Nadal to complain to the chair umpire.   This was their 37th match against each other, the most between any two men in the Open era, and Nadal has won 22. It also was their third head-to-head US Open final in the last four years. Nadal beat Djokovic for the 2010 title, and Djokovic won their rematch in 2011.   They know each other's games so well, and play such similar hustle-to-every-ball styles, but in the end, it was Nadal who was superior.
Nadal improved to 22-0 on hard courts and 60-3 overall in 2013 with nine titles, including at the French Open, which made him the first man with at least one Grand Slam trophy in nine consecutive seasons. The 27-year-old Spaniard's total of 13 major championships ranks third in the history of men's tennis, behind only Roger Federer's 17 and Pete Sampras' 14.
Copyright 2013 by The Associated Press